A few years ago, I started introducing one of my best friends, Suzi, to Miyazaki movies. She had seen Kiki's Delivery Service, but only that one movie. We started with Howl's Moving Castle and she fell in love with Calcifer, the fire demon who keeps the castle moving, among other things. As we worked our way through other movies and other cute Miyazaki characters, Calcifer remained Suzi's favorite.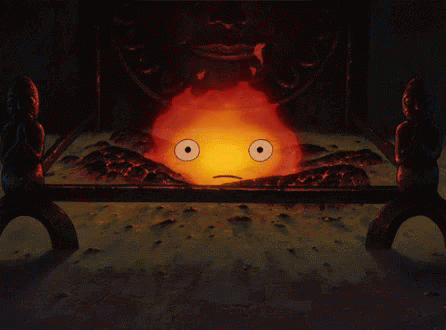 For Christmas this year, I almost got Suzi a plush Calcifer at a store in the mall, but the plush was spendy for what it was and I knew I could do better. I checked Ravelry for patterns and found this one by Sally Marshall. Now, I'm not so great with intarsia or at least not very confident in my skills, so buying the pattern and attempting this was a bit risky. But the project is small enough that it wouldn't be frustrating if I failed and I figured I could probably cover up any mistakes with double stitching.
I also decided that angora would be perfect for this project. Calcifer would look a bit more fire-like if he was fuzzy and angora would help me with intarsia because it's pretty sticky. I could have tried mohair, but angora is so much softer, IMO. Plymouth has the only 100% angora yarn in a suitable weight, but the range of colors didn't include a suitable orange or yellow. The red would probably work though.
I ordered 1 skein of red and 2 skeins of white angora along with some Jacquard Acid dyes and waited by my mailbox (not really, but that's what it felt like). When the yarn arrived, I wound both skeins of white into hanks on my niddy noddy for dying and started with orange, Jacquard color 606 Deep Orange. I tried to do the requisite math to reduce the dye recipe from 16 oz down to 10 g, but definitely overestimated. That turned out to be a good thing – the resulting color was almost neon, deeply saturated and almost more red than the commercially dyed red, which now looked pink in comparison.
I used some washed fleece to exhaust the dye bath, which I lated combed and used as stuffing for the plush. This is just one lock; I dyed close to a pound of washed fleece. I'm estimating; I didn't actually weigh it out, just added more water to the dye pot and stuffed in what I could to sop up the dye. I did that with the other dye baths as well; eventually I'm going to use the wool to make some rolags that look like fire, so keep an eye out here for a post about that.
I proceeded to dye yellow yarn (Jaquard 602 Bright Yellow) and then thought I'd try overdyeing the commercial red with a red I had on hand – Jacquard 611 Vermillion. Vermillion ended up being much to dark and a bit too maroon to work for Calcifer. I ordered more yarn and more dye, Jaquard 618 Fired Red. A week or so later, I had dye success. Below is the full color range of angora I dyed.
By this time, I knew I wouldn't have Calcifer done in time for Christmas, which is not a big deal; last year Suzi and I exchanged gifts in January.
The pattern is knit in flat pieces starting with a garter stitch base. Instead of knitting the front and back separately and seaming them to the base, I picked up stitches along the base and knit them attached that way.
I didn't think I would use the Vermillion-dyed yarn at all, but it ended up being perfect for the French knots that are Calcifer's pupils. The intarsia was challenging and it's not 100% perfect – some of the stitches are uneven, some are pulled too tight – but I used a needle to even some stitches out manually and double stitched others while weaving in the ends to cover up the glaring holes.
I thought making the back look like the front but without the eyeballs, but I was anxious to finish him and I didn't want more intarsia & noodling out the pattern to slow me down. Maybe I'll make another where the back echoes the front colors.
Suzi and I met for milkshakes (our thing) last Friday and I gave her Calcifer, along with a Clapotis I made for her (it will always match her hair, which she colors frequently), so I feel like I can finally post about it without potentially spoiling the surprise. She's thrilled! She says that he is "The softest fire I've ever touched!" Mission accomplished!
Ravelry project details, in case you're curious.